Valor Organic & Natural Beard Oil: review
Handcrafted in the glorious Byron Bay hinterland, the scent of this natural beard balm is elusive & classy with its spicy depth.
Having used it for the better part of a year, the males in our family have given it the big thumbs up as a product that soothes, settles and well, just works really.
They use it as a shaving balm + a beard oil, because it's particularly effective at stopping itching.
That afore-mentioned scent (cedarwood, neroli, lime & an undertone of patchouli) is the icing on the cake - because this little bottle packs a punch as a skin, follicle and hair nourishment. While making the beard hair itself softer (definitely a good outcome!), the hard work is actually happening on the skin surface, where the combination of plant oils help to heal any cuts, reduce itching, and generally soothe.
Perhaps the toughest test of all is finding a product which actually works on teenage skin - with all the hormonal ups and downs while the body sorts itself out - and it is from our resident teenage male in particular that Valor gets a big tick. He initially used it daily, to soothe his itching chin both before and after shaving, but found that after a few weeks, just rolling it over his face a couple of times a week was sufficient. How good is that?
So what's in Valor Beard Balm?
*Cold pressed NSW Macadamia Oil, *Coconut Oil, Argan Oil, *Hemp Oil, Borage Oil, Rosemary extract. 100% Pure Original Essential Oil blend.
(* = Organic)
and what's not in IT?
NO PALM OIL, SYNTHETIC FRAGRANCE, CHEMICALLY REFINED OILS, SYNTHETIC FOAMING AGENTS or PARABENS.
And importantly,
it's neither tested on animals nor made from them.
It's not so easy to find shaving brushes made without animal hair, so we were super impressed to discover Valor stock vegan shaving brushes, as well as animal-friendly shaving soap to complete the traditional shaving kit.
All the Valor products are produced in small batch production, and predominantly use Australian botanical oils - including the base ingredient of certified organic Australian-grown olive oil.
The owner, Victoria Clayton, started making the products for her husband as an alternative to the more abrasive products which were reacting adversely to his skin. She discovered that macadamia oil is one of the kindest oils for sensitive skin, and began using that as well as the therapeutic olive oil, plus a delicious concoction of fruit oils.
Friends starting asking if they could have some too - and demand took off from selling at local markets, to now being available at lots of stores across Australia, as well as online (either direct from Valor or via other stores).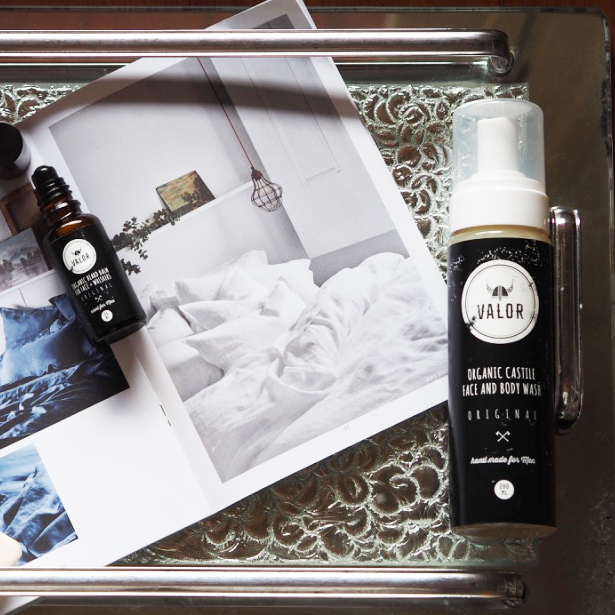 Made from botanical ingredients
Our boys have also been using the Organic Castile Face & Body Wash, which has a wonderfully "manly" scent they tell us.
Made from a base of organic Australian olive oil, and scented with fennel, lime, clove leaf and patchouli, it also contains cold pressed coconut, sunflower & avocado oils.
We just like it because the bathroom smell nice after use!
What's the Verdict?
If you are looking for a very gentle, very pure men's shaving balm which smells as good as it works, this is a top choice. Made from plant oils, it feels silky smooth and it's reassuring to know that it's cruelty-free as well as free from palm oil, parabens & petro-chemicals.
Will we continue to use the product? Yes, and we're looking forward to checking out some of Valor's other natural shaving products too.
PS - this is not a sponsored post - although we were given the Beard Balm & Face/Body wash to try at a trade fair, where we discovered the brand. As always, we are keen to support small businesses with ethics & great products, who are providing fabulous vegan options.